The Oscars is known for giving honor to the people who deserves to be acknowledged for their outstanding work in the entertainment industry. From the finest actors to the most amazing animators, everyone deserves an award, but only one gets the trophy.
The Academy Awards just released their nominations for this year's bests. The film, starring Emma Stone and Ryan Gosling entitled La La Land, definitely got the most major nominations. People from all over the world wants to see who is going to win, but then it's not just the winners people are looking out for, they also are so eager to see who's wearing who in the Oscars red carpet, but have you ever wondered who wore the most expensive Oscars red carpet dress? Well, keep reading to find out.
JENNIFER LAWRENCE



DRESS: $4 Million by Dior
In 2013 Oscars red carpet, J-Law wore a Dior Couture creation that is worth $4 million and is considered to be the most expensive dress worn at the Academy Awards. It is a beautiful blush pink ball gown that is well known because of its design that made Lawrence trip on her way to receive her Best Actress award. It was lent to her because she is one of the most famous faces of the brand. It gave the Dior so much publicity because of the fact that she tripped and also because Lawrence won the Best Actress award for her film Silver Linings Playbook. She is known for her movies such as the Hunger Games franchise, Joy, American Hustle and the X-Men franchise.
NICOLE KIDMAN



DRESS: $2 Million by Dior
Another million-dollar dress was my by Dior Couture but this time for actress Nicole Kidman in the 1997 Academy Awards. Walking with then husband, actor Tom Cruise, this look is considered to be one of the most iconic dresses that has been worn in the Oscars red carpet.
The dress was apparently crafted with a use of a striking gold-green color and was highlighted with a beautifully detailed embroidery with a high neck and a slit on the side. She even paired it with a dashing dangling earring with some rosy cheeks and a dark red lipstick. Kidman is known for her movies such as Moulin Rouge, The Hours, and Far and Away, where she met Tom Cruise.
CATE BLANCHETT
DRESS: $200,000 by Armani
Another astonishing and iconic look is from the Academy Award winning actress, Cate Blanchett. She was wearing an Armani Prive dress worth $200,00 in the 2007 Oscars. The said off-shoulder dress was made from silver mesh fabric covered with Swarovski crystals with a black clustered spangle floral motif and a tulle overlay. She is known for her movies such as the Curious Case of Benjamin Button, The Lord of the Rings Trilogy, Blue Jasmine, and Cinderella.
ELIZABETH TAYLOR
DREES: $167,500 by Elizabeth Head
One of the most notable actresses of her generation, Elizabeth Taylor wowed the world with her periwinkle dress paired with diamonds on her neck in the 1970 Oscars. The entire entertainment industry was fascinated by her dress and not just because of the design, but also with the price. It costs about $167,500 and is considered to be one of the most expensive Oscar dresses of all time and it was designed by Edith Head. It was then auctioned for the same price in 1999. Taylor starred in many movies and is known for her roles in Cleopatra, Cat On A Hot Tin Roof and A Place In The Sun.
AUDREY HEPBURN
DRESS: $131, 292
And last but definitely not the least is the Queen of the Classic Hollywood films herself, Audrey Hepburn. In the 1954 Oscars, Hepburn wore the customized version of her final dress in the movie Roman Holiday. However, it was still unknown how much the dress really cost, but during an action in 2011, it was sold for $131, 292. She is known for her movies such as Breakfast at Tiffany's, Roman Holiday and My Fair Lady.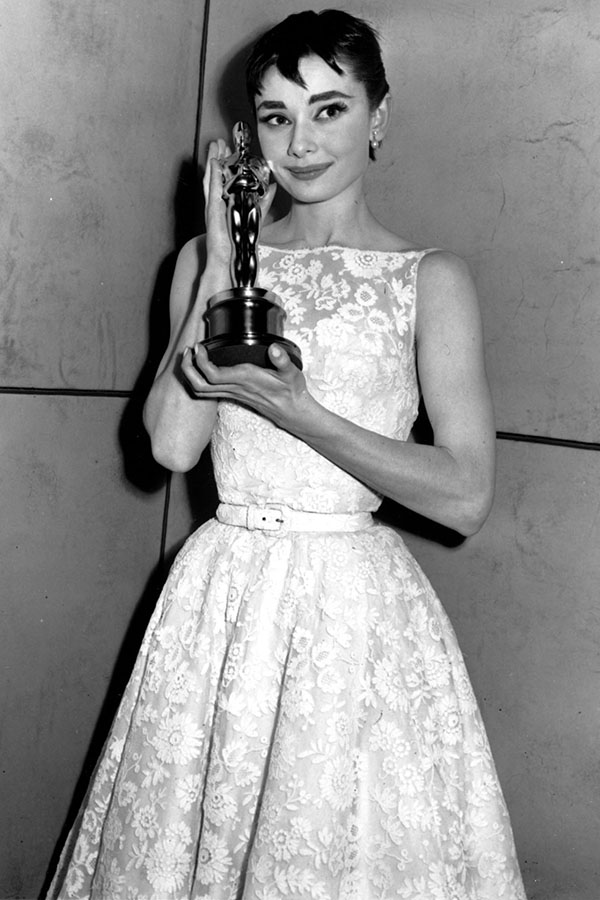 And there you have it, the top 5 most expensive dresses from the Oscars red carpet. Do you have any guesses on who is going to be on the best dressed list for this year? Or who is going to be the one wearing the most expensive red carpet dress. Looks like we don't have a choice but to wait and see. The 2017 Oscars will air live on ABC at 8:30 pm EST on Friday, February 26.