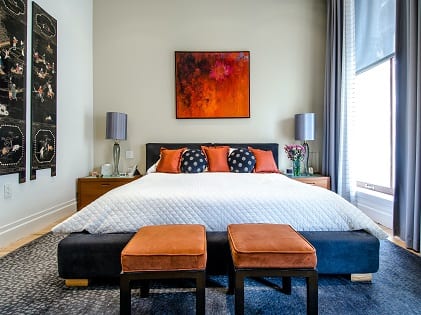 A massive king-sized bed with a beautiful balcony, ample space to walk around the room, a possible walk-in closet, that's the dream bedroom for most people. However, not everyone can afford a massive space like that. Most of us are stuck with a barely-there kind of place or a studio apartment, which makes it difficult to decorate the place.
When you add furniture or decor to the place, you only end up making the room look more cramped up for space. If this seems familiar to you, here's how you can redecorate your bedroom to make it look huge. We hope these ideas will inspire you to decorate your home so that it looks like the place you've always wished to own!
Use Light Colors
Ever wondered why hotels use light hues, or mostly white? It is not only to show that the place is clean and hospitable but also to make the space look massive. Paint your walls in light shades like blue, green, off-white, or white so that the walls will appear farther, and the room will look massive.
Besides that, it will also light up the room by bouncing off the room. You could also try colors like eggshell or satin. The finish creates an illusion of space in the room. Besides the paint color, you could also use curtains, furnishings, and bed covers in the same hue.
Floor to Ceiling Curtains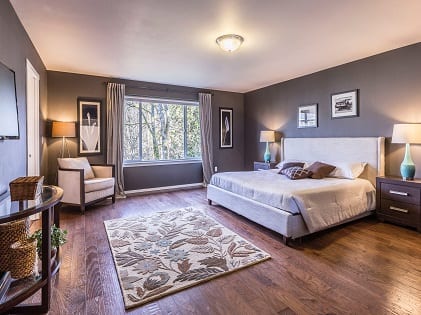 Most people buy curtains that are the apt size for the window. However, interior designers believe that using large curtains are better if you have a small room.
The ceiling to floor curtains gives an illusion of space. Yet another factor that you would notice in hotels and resorts. All of us remember pushing away those huge curtains from the window to enjoy the view and get a feeling of the room size increasing significantly.
Well, the reason for this is simple. When your curtain frame is closer to the ceiling than to the floor, it creates an illusion of height. This, in turn, makes the room seem huge. If you use a standard size curtain, your perception of the room ends at your eye level. If the curtain rods are at the ceiling level, your eyes perceive the space from where the curtains start as part of the room. And it thus creates an illusion of the room as huge!
Use Large Mirrors in Dark Spots
No matter how well-lit the room is with natural light, there are definetly dark spots in the room where the light does not reach. And we naturally tend to perceive those places as being tiny and congesting. Instead of using this space to dump things that you do not use, you could place large mirrors.
These mirrors will bounce the light off the reflection and light up the whole room. Besides that, you can also place the mirrors at various focal points to create an illusion that makes the room look bigger. This happens when the natural and artificial light bounces off the mirror's surface, giving depth to the room.
De-Clutter the Room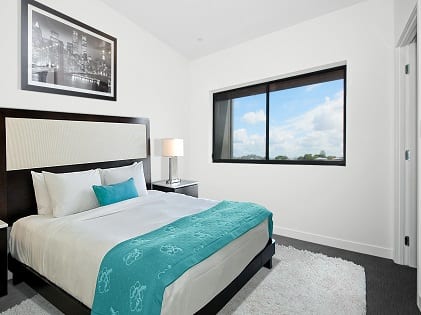 Even a huge room will look tiny if you place too many things in it. Ever wondered why an empty house looks huge? It is impossible to live in a space with barely any things or looks like an empty house. However, if you organize and de-clutter your room, it will create an illusion of space.
You could also switch your furniture with those that have storage space. Everything from your bed to the ottoman can double-up as a storage facility so that you don't have to rely on just the cupboards.
You could also remove all those wall hangings, pictures, and paintings and replace them with a few objects. Using a few massive wall decor items works better than a room full of antiques and showpieces. Another aspect you might notice in the hotel lobby and rooms where they pick only a few items to deck up space. When you de-clutter the room, you automatically have a huge space to use.
These are a few ideas for you to draw inspiration from. Get creative and use all the resources at your disposal to create your dream home. Remember, it is all about finding the right inspiration and getting creative!