Timothee Chalamet, the internet sensation, is famous not only for his good looks, but the guy knows how to put together outfits and redefine fashion. Nominated at the Oscars when he was just 21, Timothee delivered amazing performances in movies like Lady Bird, Call me by your Name, and more. The Beautiful Boy stayed his casual self and snatched the title of the king of style.
No wonder you see directors and designers making a beeline for him! So what makes him so charming? That correct blend of boyishness and brooding look carried off with a natural charisma is Timothee's forte. Coupled with that is his easy-breezy styling. If you happen to not just ogle at him but think of walking in his footsteps, here are few approaches to get going.
Nothing Comes Easy Sans The Risk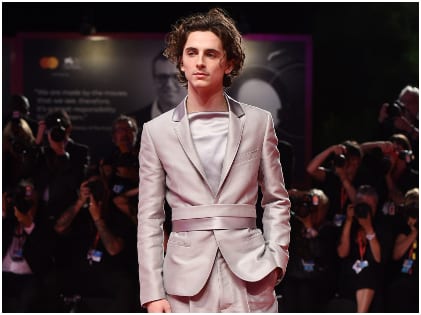 Yes, Chalamet took risks galore and put together combinations that never made sense till he did it! So you might see him in suits, but not necessarily with the all-time favorite collared shirt. He simply manipulates his silhouette. From embroideries to oversized tees, big prints, and let's just say, luggage looks- Timothee has given formalwear a total break. You would rather term it as 'advanced menswear.' And not shying away from sporting such looks.
That Jacket Speaks Volumes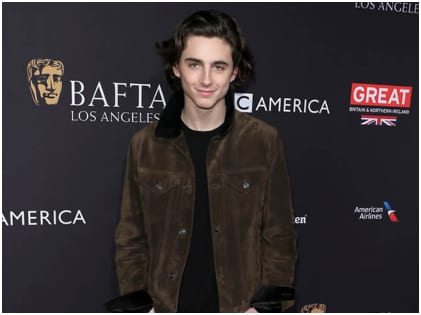 Not many will tell you this, but Chalamet maintains a focal point of his dressing. Let's just take jackets, for example. Almost every guy has a good one in his wardrobe. So mix that suede material clothing, get your black T-shirt and the same colored trousers. What's the USP? Timothee says there's nothing bold about this look. But you can do so, simply by popping up that collar containing black details or rolling up the sleeves in an interesting way. See the drift?
Get That Grunge Mode On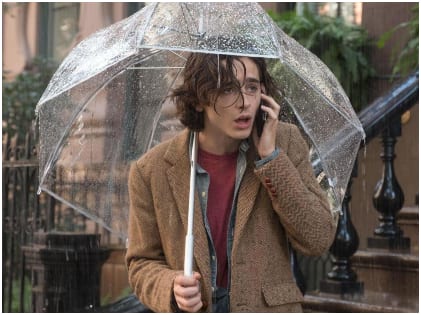 You thought that only the late Kurt Cobain had it in him to launch and carry it off to perfection? Your ideas will undergo total transformation once Chalamet enters the scene! A true champion the 90s grunge, the actor knows how to make heads turn in his oversized sweater teamed with casual, slim fit jeans. It would be a lie to say this was not the plan, even if not meticulously.
Black On Black
An all-black look can be a drab. But trust Timothee to bring that streak of difference when he slips into his bomber, tee, and black jeans. Just a splash of color in the form of trim on the jacket is enough to capture your attention. And voila! When you pair it with white sneakers, this look is just all you need to sport to grace an occasion.
Classics Have Not Lost Charm Just As Yet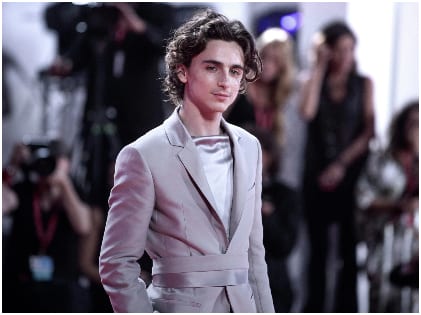 Chalamet and traditional might not go hand in hand, but some looks would make you forego your existing thoughts. In recent seasons, the double-breasted suit has made a comeback. When it comes to modern-day dressing, Timothee ensures he tucks in that classic crisp white shirt. And the pocket square that plays peek-a-boo is precisely what you need. The tie is given a miss, and the look stands complete with tan lace-up boots. Couldn't recognize? Well, that's Timothee for you.
That Tonal Red Tee Deserves 'Bravo'
When was the last time you saw someone adding oomph to the look wearing a bright red suit? You require real guts to flaunt that. The tonal red tee is counter-intuitive. But if you see closely, combined with the showstopper suit in red, it creates far more of an appeal than a plain and simple white shirt. Instead of that, Timothee broke the color code with his shoes, this time in white!
Printed Tees And Experimentation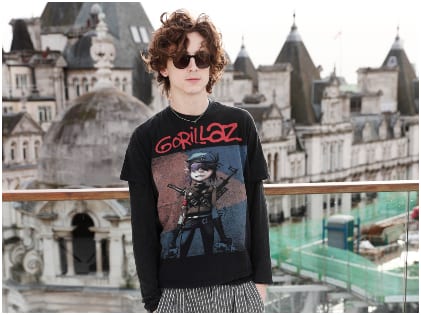 The red carpet offers a great opportunity to showcase some brilliant tailoring. And imagine this man proving it all wrong with a black suit, well-cut no doubt, but keeping that colorful yet impactful printed tee underneath it. Guess he knew that a splash of black on the tee would only fetch him brownie points for the overall look (and it did).
Chalamet declared himself a 'fashion fanboy' in 2018. In less than two years, effortless styling is all we speak of him, aside from his acting! We wish the young actor the best of luck for his future endeavors.