Nobody said that being a celebrity was easy. Sometimes, with stars in our eyes, we forget that our favorite celebrities are just human beings like us (very fortunate human beings, might we add). And so it goes without saying that they too suffer some situations that every human has had to endure. Today we highlight the most embarrassing, most human fails of the red carpet. No, not wardrobe malfunctions today folks – we're looking at who took a fall on the red carpet!
Helen Mirren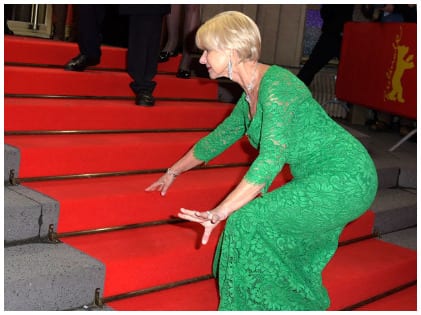 Now, we aren't here to make fun of a 70-year-old woman tumbling down the stairs. However, Helen Mirren didn't fall down the stairs, she simply tripped up while walking up the steps. She had been attending the Berlin Film Festival Premiere of the production titled The Woman in Gold. She certainly looked dashing in her green gown, but it only drew more attention to her – which would have been alright if she hadn't been the victim of such a blunder! For 70 years old, she has pretty good reflexes and rather quickly caught her balance and carried on!
Hayden Panettiere
If you are a fan of Nashville, then you will recognize Hayden Panettiere. The celeb was attending the Met Gala of 2014, an event that has all eyes on each celeb at the event – this is one of the worst places for you to have the misfortune of a slip and fall! Of course, Panettiere was unlucky enough to lose her footing as she trotted the red carpet. She was wearing a gorgeous but cumbersome Dennis Basso gown, which caught her feet up underneath the dress. Fortunately, she made it down the stairs in one piece!
Emma Thompson
If Emma Thomspon could take back a day of her life as a celebrity, we think that this fine day of 2013 is certainly one of her top picks! That's because as the star was participating in her prestigious Hand and Footprint ceremony, held at the TLC Chinese Theatre in LA, she suffered a highly embarrassing fall. Thompson collapsed to the carpet in quite a tumble, but what more could she do than get back up again and move on! Of course, the internet and the public will never forget it!
Jennifer Garner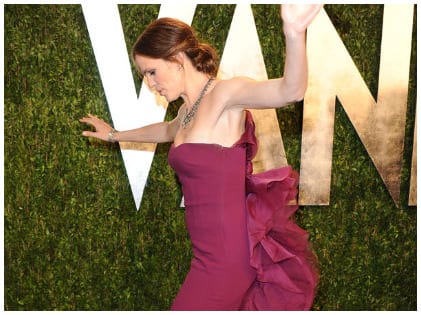 Few people have dealt with a loss of balance as gracefully as Jennifer Garner did in 2013 when she attended the Vanity Fair Oscar's Party. Garner was donned in an attractive fuchsia gown by Gucci when she tripped up. Admittedly, the carpet wasn't 'red', per se, but this was a red carpet event and so she made this list. Fortunately, Garner managed to regain her balance, thus avoiding her face meeting with the floor!
Jennifer Lawrence
Jennifer Lawrence probably takes the prize for our clumsiest celebrity. It seems she has terrible luck when it comes to public events. Lawrence has fallen over more than once, so she has quite a reputation for being clumsy! At the 2014 Oscar's event, Lawrence tripped out of her Limousine! But her worst is probably the Academy Awards of 2013 when she was actually walking up the steps to the stage to accept an award. It could have been nerves, or it could have been the large billowing dress, but whatever it was, it was seen across the globe!
Naomi Watts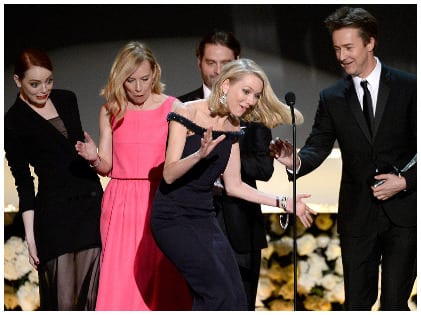 Naomi Watts was on her way up to the microphone when she got her feet caught up. It was the 2015 SAG Awards. Apparently, she tripped over Emma Stone's dress! We have to hand it to her for remaining composed after such a wipe-out! She was accepting an award at the time for Birdman, for Outstanding Performance by a Cast in a Motion Picture. However, the picture of the expressions on everyone's faces as the unfortunate accident occurred is priceless!
Now, can you imagine tripping up if you were walking in your best evening gown and looking your most glamorous? Well, falling down is never fun, and this is especially true when it is done in front of thousands of people before it is then posted in an article for millions of people to read about! Some things simply can't be undone! But we can't deny the fact that these accidental tumbles have made us giggle.