Your kitchen is a space of the home that you are using daily. There are many surfaces that you come into contact with multiple times a day, and some of these surfaces may not be as clean as you think they are. We all now how unimportant good hygiene is to prevent disease and infection. Here are some things in your kitchen that may be making you ill! Keeping your immune system in its best condition is of the highest priority during this pandemic, so don't neglect these things in your kitchen!
An Old Dish Sponge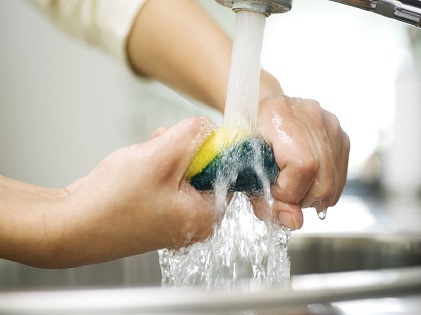 It might seem obvious now that you are reading it but think about your dish sponge right now. When did you last replace it? Lots of people tend to use their dish sponges for way longer than they should. This habit is risky as you could be creating a bacteria breeding ground on your sponges. Sponges are for surfaces, dishes, and the microwave, stovetops, and more. This means You could be transferring bacteria all over your kitchen. It is ideal to have three sponges, one for surfaces, one for the microwave, and one for the dishes. Also, regularly replacing them is highly important.
Faucet and Fridge Handles
While appliance handles and faucets may be the last thing on your mind as you scrub down the floors and the dishes, it's time for that to change. The fridge handle, kettle handle, and faucets are some of the things you make contact with most throughout the day. This means they should be the top priority, as they are the points where disease and infection could spread from. If you handle raw meat, you go to the tap and wash your hands. You have touched the faucet. You then go to the fridge, after closing the tap. Voila – the bacteria has transferred to the refrigerator. After cooking, you make a cup of coffee and fetch the milk from the fridge, then pour water from the kettle. This shows how bacteria transfers between these three handles. Sanitize them to avoid illness.
Sanitizing vs. Cleaning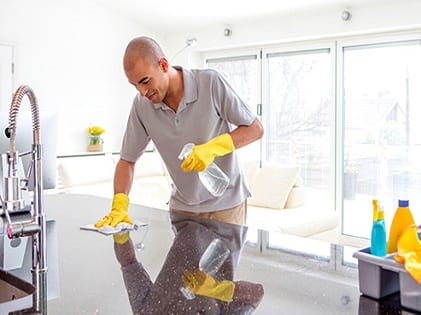 Amid the coronavirus pandemic, you've been hearing a lot about sanitizing. We're about to talk about it some more! Do you know that there is a difference between cleaning a kitchen surface and sanitizing it?
Wiping your countertops with a rag is cleaning it, but not sanitizing it. To sanitize correctly, you need first to use a diluted bleach solution to wipe down the countertop to eliminate germs. If you re not sanitizing, then countertops will appear clean but, in fact, harbor tons of germs, which you cannot see with the naked eye.
Dirty Dish Towels
If you aren't in the habit of frequently changing your kitchen dish towel, you could be exposing yourself and your family to some serious risks in the kitchen. A study published in America found that the leading cause of cross-contamination in the kitchen area was the dish towel. Almost 50% of the kitchen towels in the study presented bacterial growth. The bacteria was the same kind linked to foodborne illness. Avoid drying your hands and clean dishes with the same dish towel that you use for wiping up spills.
The Water Dispenser
It can be easy to forget about the water dispenser on the fridge. It is highly likely that the dispenser holds plenty of bacteria because a study showed between 54 and 4000 colonies of bacteria growing in every single one of six water dispensers from six different homes. What is most shocking is that it makes no difference whether the water was changed or not. What matters is how frequently the spout was touched. The mouth of the dispenser can contaminate the dispenser itself. Clean the spout often with rubbing alcohol to disinfect.
The Garbage Disposal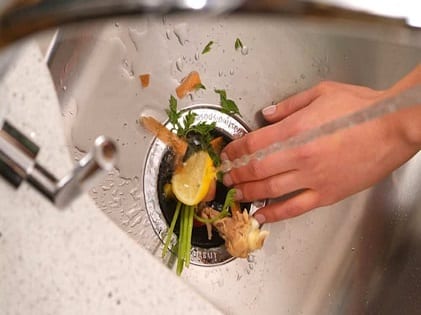 Another widely overlooked area of the kitchen is the garbage disposal. This area is a bacterial hotbed! There happen to be more E. coli bacteria in your kitchen sink than in a flushed toilet!
The sink is wet and moist – the perfect environment for bacteria to flourish. There is food down the drain for bacteria to live on, and so they are well taken care of! Hen cleaning the sink and garbage disposal, don't also forget to disinfect and clean the rubber gaskets. Use bleach to clean out the area.
Now that you know how scary the kitchen can grab that bottle of bleach or disinfectant and some sponges and get scrubbing!