If you want to laugh, cringe or get shocked, you are just where you are meant to be, because we have brought you the funniest and most cringeworthy Red Carpet moments in Hollywood history that would make you want to say "did that really just happen?" 
John Travolta Kissing Scar-Jo
To cringe or not to cringe? Well, the photo may or may have NOT says it all. But during the 2015 Oscar Red Carpet, actress Scarlett Johansson, who was looking so good in her green Versace dress, was posing for the cameras when John Travolta came out of nowhere and gave her a peck on the cheek.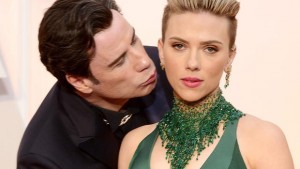 Scar-Jo looked so uncomfortable in the photo and she even had this look on her face saying "can't believe he's doing this" but when she gave a statement to the Associated Press, turns out the photo has a different meaning.
"The image that is circulating is an unfortunate still-frame from a live-action encounter that was very sweet and welcome. That still photo does not reflect what preceded and followed if you see the moment live."
She also added "there is nothing strange, creepy or inappropriate about John Travolta."
Dakota Johnson Scowls at her Mom's
The Red Carpet is all about the glamour. The members of the press would ask "Who are you wearing?" Or like "Who did you come with tonight?" And things will go smoothly. But things didn't seem to be that smooth when actress, Dakota Johnson went to the red carpet with her mother in the 2015 Oscars.
When the host of ABC, Lara Spencer, asked Melanie Griffith if she watched her daughter's controversial film, "50 Shades of Grey" this is what she said. "No, I don't think I can. It would be strange. Well, she's a really good actress, I don't need to see that to know how good she is."
Dakota didn't hide her feeling of dismay towards what her mother said so she kind of snapped like a teenager on national television and said "Alright! You don't have to see it! Jesus Christ!" Well she sure is NOT happy and it was indeed such an uncomfortable interview.
Amy Schumer PRANKS Kim K and Kanye
Kim Kardashian and Kanye West are probably one of the most controversial couple today, maybe because the Kardashians have been broadcasting their lives for years now with their reality show "Keeping Up with the Kardashians." But during the Time 100 red carpet at the Lincoln Center, the couple had a pretty awkward encounter with comedienne Amy Schumer. She sure knew how to make a scene and she totally did steal the spotlight from Kim and Kanye when she fell flat on her face right before them.
It was on purpose…
The comedienne explained "So all the reporters went crazy for Kim and Kanye and I've always thought falling over is the funniest thing, so I took a dive in front of them. I couldn't help myself."
She also added "They didn't crack a smile, which confirms they had no idea who I was, which is a relief"
But she later told People that Kim thought it was funny when she found out and Kanye was being…Kanye.
Gigi Hadid SNUBS Harry Styles
We all know that Harry Styles of One Direction, dated Taylor Swift, and things didn't seem to end nicely  between them. So when the model, Gigi Hadid, who is a part of Taylor's squad (and is now dating a former One Direction member, Zayn Malik) met up with the band in the 2015 American Music Awards Red Carpet, things got extremely awkward.
The boys were in the middle of an interview when Gigi obviously tried to catch their attention, and the host, who was interviewing them asked "Have you met Gigi Hadid?" Now this is the part where it all just went…wrong?
The model hugged and kissed Niall Horan, Liam Payne and Louis Tomlinson as a greeting, but all Harry got was a handshake. Probably because of Harry's dating history (Taylor Swift and Gigi's bff, Kendall Jenner).
The Man with a Bag on His Head
In 2014, actor Shia Labeouf, walked the red carpet at the premiere of his very controversial film wearing a paper bag on his head. Before it happened, Shia claimed that his "entire life was one, long extended performance art project".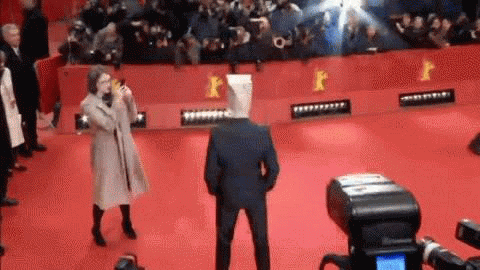 Written across the bag with holes for the eyes, are black letters with words, saying, "I'm not famous anymore" He was referring to his posts on twitter where he announced that he is retiring from public life.