The height of the bow tie's popularity was in the 1940s and 1950s. Back then, powerful people used to wear them, so bow ties became the symbol of strong people with an attitude. Honoré de Balzac was quoted saying that manner in which a man tied his bow tie distinguished "a man of genius from a mediocre one". Do you agree? Let's see who were bow tie lovers throughout the history.
Winston Churchill
Winston Churchill was born in 1874, but he was mostly popular during World War II. The British hard-drinking and cigar-smoking Prime Minister won the Nobel Prize in Literature back in 1953. Being a very successful politician, he was greatly respected during his lifetime. Even his funeral was something unusual – it was broadcasted live on many televisions around the world and it was the largest public funeral up to that time.
Apart from his political and literary work, he was also known as the bow tie lover. Churchill was the inspiration for the Blenheim – a bow tie with white polka dots named after his birthplace.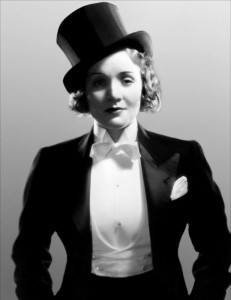 Marlene Dietrich
Marlene Dietrich was a famous actress who used to wear men's clothes and thus breaking the taboos about female sexuality and identity. In the movie from 1930's called Morocco, she was dressed in tails while kissing a woman. What a scandalous action that was! Very scandalous even for Hollywood. She used to say:
"I dress for the image. Not for myself, not for the public, not for fashion, not for men."
Fred Astaire
Fred Astaire was an American actor, dancer and television presenter born in 1899. He was an inevitable participant of many musical films from the 1930's to 1980's. Astaire was ranked as the fifth greatest male star of Classic Hollywood cinema by the American Film Institute. He was also the winner of many awards and honors. "Do it big, do it right and do it with style," was Astaire's motto. And he didi it! He wore his bow tie with style for many years. All of his bow ties complemented the high fashion Hollywood garb he used to wear in all of his dancing movies.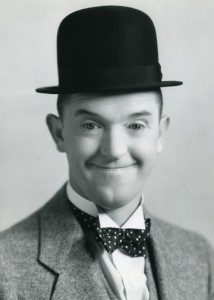 Stan Laurel
Stan Laurel was born in 1890 and was a comic actor most famous for his role in the comedy Laurel and Hardy. Even though the audience loved him for his crying face, Stan Laurel was also famous for wearing bow ties. In most of his movies, there was a bow tie present around his neck. If all of these movies were in color and not just in black and white, we could probably see a wide variety of their colors. Now, we can only guess that all of them were not just black-and-white as we can see them on the screen. We can suppose he loved even blue or red ones. What do you think? Which bow tie color was his favorite one?
Charlie Chaplin
Here is one more comedy actor from black-and-white movie era. This silent-movie star wore his famous tramp outfit always with a bow tie.
Exactly this contrast in his outfit made him famous. Dressed as a gentleman, he revealed his aspirations towards wealth and fame. Chaplin was the winner of many awards and honors, among which there was an Honorary Award for "versatility and genius in acting, writing, directing, and producing The Circus" back in 1929.
Frank Sinatra
Frank Sinatra was a famous American singer and actor, born in 1915. He is credited with the popularity of bow ties in the 1940s and 1950s. You can check out our post about Sinatra's style here.
James Bond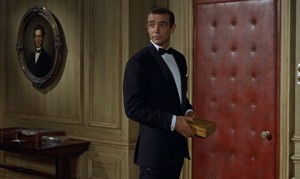 It doesn't matter who played the famous Agent 007 – they all wore bow ties: Sean Connery, Roger Moore, Timothy Dalton, Pierce Brosnan, and Daniel Craig. Every single one of them! It was probably a part of the character itself since it is a doubt that anything in these blockbusters could be done without previous thorough planning.
Playboy Bunnies
And now something completely different! These famous girls were always wearing bow ties! Other obligatory parts of their uniform were cuff links and rabbit ears. This outfit lasts for more than 50 years now. It is not so well-known fact that the Playboy Bunny costume is the first service uniforms ever granted registration by the United States Patent Office. Did you know that?