Gabriela Ligenza is a milliner from London who created headwear, that is to say, HATS which are a kind of an art. She was trained to become an architect and interior designer but decided to deal with hats rather than constructions. Her millinery is entirely handcrafted and she combines modern fabrics with traditional methods. Her hats are truly contemporary and feminine.
"Hats are like sculptures on the move. More three-dimensional than garments, they only come to life when worn." Gabriela Ligenza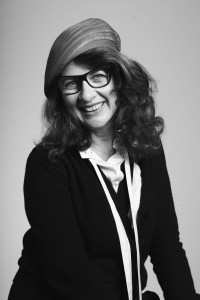 Many famous people were interested in Gabriela Ligenza's millinery, among which are Elle Macpherson, Princess Caroline of Hanover as well as other members of Royal Families across Europe.
Gabriela Ligenza's used to travel a lot and visited many places in the world, so her creativity comes perhaps from these experiences. She also loves experimenting with different color combinations and thus produces unique and exquisite creations. Gabriela worked with MaxMara, Paul Smith, John Galliano, and Missoni and all of them expressed a great admiration for her work.
In 2010, Gabriela participated in the London Festival of Architecture where she created a pop-up exhibition with her hats which were inspired by architecture.
"The focus of the project is making people smile and helping them understand that architecture can be playful by putting it somewhere unexpected," said Ligenza.
Together with the design duo you&me, she called out young artists, designers, and architects to help her create a collection of hats inspired by London. Those hat designs were afterward exhibited in the shop window of Gabriela's flagship London store from 19th June to 4th July 2010.
"We have found that hats and architecture are more similar than expected. Both can be used for protection from the elements, as fashion statements and can indicate social status or religious identity. We are excited about exploring this notion together with our hat-itects to create an energetic and fun show," said you&me.
Gabriela described her hats as being "like sculptures on the move" containing contemporary elements incorporated in sculptural shapes with their own softness and femininity. Her exquisite creations can compliment any outfit for any occasion. She was working between Italy and London for more than 25 years.
3D Printed Hats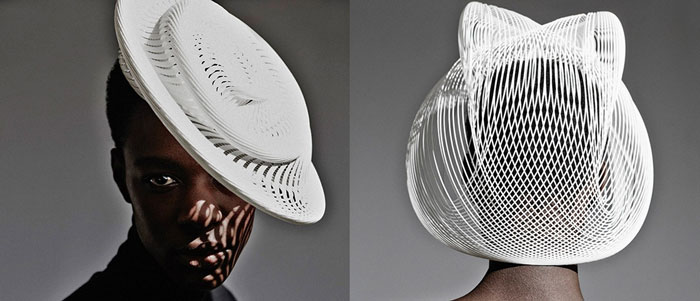 For Autumn/Winter Collection 2014, Gabriela launched a collection of 3D printed hats during British horse racing even Royal Ascot. She said she appreciated the 3D printing technique which enabled her to create in a way which previously used to be unimaginable. People included in this project were mathematical art scholar, Francesco de Comite from the Lille University of Sciences and Technology, digital animator and storyteller Joaquin Baldwin and Adam Mellotte from Inner Leaf.
The materials used for the 3D hats were mostly nylon, for its lightness, flexibility and ability to hold fine details, and stainless steel.
Cats in Hats
Unlike Gabriella Ligenza, who creates hats for people (mostly women), here we have a photographer who creates hats for cats. Those hats are not to be taken from their owners since being made from their own hair.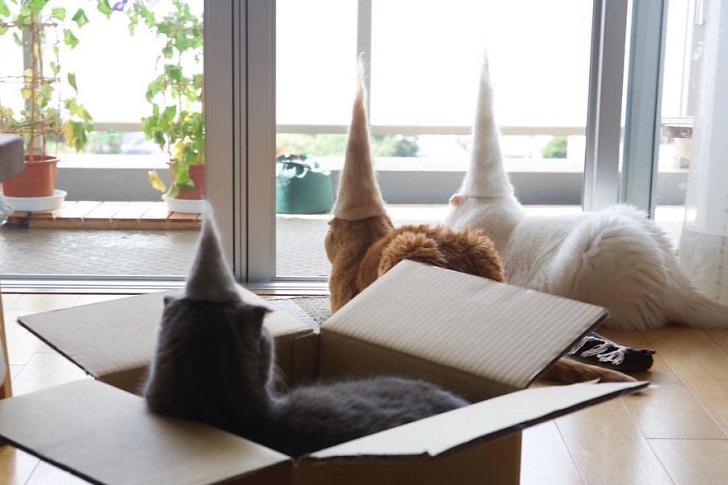 Japanese photographer Ryo Yamazaki collects hair which his Scottish Folds shed all around the house and makes hats out of them. He has three cats named Nyaa (an 8-year-old tabby), Mar (the white 6-year-old kitty), and Wheat (a 1-year-old brown tiger). Isn't it so cute?
Real Hats For Cats
Meredith Langley is a woman from South Carolina who makes real hats for cats. She has her own Etsy store where she sells her creations. This job of hers started as a game to entertain herself while taking care of her children.
Today, many entertaining agencies are calling her to discuss her work and take some samples for their shows and commercials. There are many adorable hats made by knitting and crochet which are meant for cats to wear them. They were used even in weddings, graduations, various celebrations, and marriage proposals.
Many animal welfare organizations have been using her work to promote some important animal issues, such as the adoption of homeless pets.
Meredith herself is surprised by her success as she never really had the intention of undertaking this kind of business. Check some of her creations to see how beautiful her work is. Needlework is undoubtedly a very satisfying hobby which can make both people and animals protected from harsh weather conditions.