Eco-fashion is the latest buzzword in the fashion industry and celebrities are showing how fashion can be fabulous but does not necessarily have to be cruel. Veganism is big, it is impacting your food, your beauty products, and what you wear! Celebs are choosing to reduce their carbon print and embracing sustainable fashion for all the right reasons. And they're making sure that the world takes notice of their stand by dressing up for big-ticket gala events in an eco-friendly attire too.
If you are someone who needs the inspiration to follow the sustainable route, then here are some cool looks sported by your favorite fashion-conscious celebrities who are here to ditch those leather pants and embrace cool sustainable fashion looks.  Do you want to join Emma Watson, Lupita Nyongo, and Margot Robbie to promote ethical fashion? Well, we will share some amazing looks spotted on celebs over the years who made it an easy on the eye and the environment in one easy flourish.
Emma Watson – Recycled Water Bottle Dress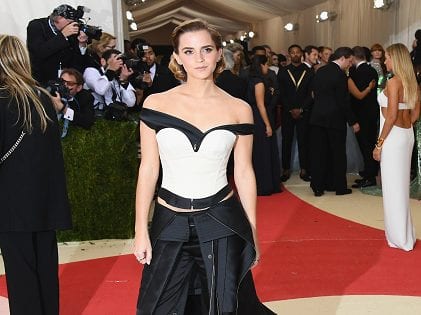 She wore an eco-chic look in 2016 at Met Gala. The Calvin Klein gown was made up of, hold your breath! recycled water bottles! It included a skirt, pants and an off the shoulder bodice.
She lends this look, her full-fledged support, voicing strong reasons why she is all for sustainable fashion and cites out how unsustainable fashion affects the planet in more ways than one. People buy something to wear it twice and tosses it away thereby promoting landfills.
Naomie Harris – Chocolate Wrapper Dress
Yup, you heard us right! The 2013 Oscar look made noises for all the right reasons! It was a complete drop-the-jaw moment. The organic silk crepe de chine look was made up of chocolate candy wrappers. Besides that, it uses recycled zippers and vintage glass beads to complete the dress.
Before you dismiss it as weird, hear us out. The fabric dye for this fabric comes from chamomile and goldenrod! The Michael Badger look was a winner alright and was inspired by the volcano and the flowing lava.
Gisele Bundchen – Organic Silk and Cotton Gown!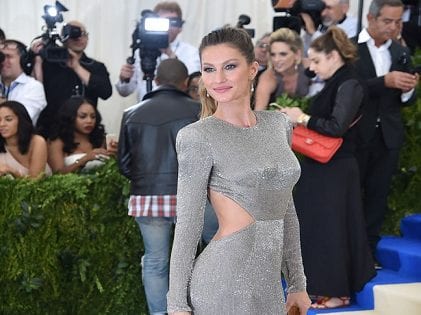 A perennial advocate of the sustainable fashion movement, Gisele wowed us by contributing to the Green Carpet Challenge.
She wore a-hundred-percent GOTS ( Global Organic Textile Standard) certified gown. The dress was also dyed ecologically. A stunning portrayal of sustainable fashion.
Lupita Nyongo – Sequin Gown with Velvet Strap
The green sequin gown with velvet straps made for an oh-so-tunning moment at the red carpet. The Calvin Klien gown looked glamorous, effortlessly chic and her updo complemented the gown beautifully. A complete scene-stealer, no two ways about it! And it is impossible to not fall in love with her look.
Lily Cole – Plastic Bottle Silver Dress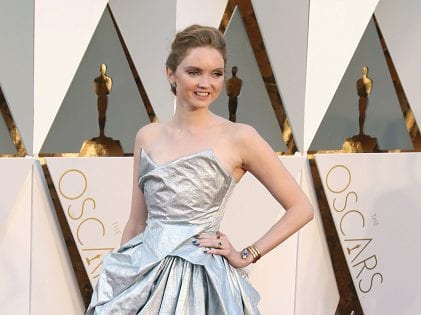 The year 2016 saw Cole wear a silver Vivienne Westwood gown made up of recycled bottles, truly we can find beauty in unexpected quarters! The Vivienne Westwood gown ticked all the right boxes as far as sustainable fashion is concerned.
Padma Lakshmi – J.Mendel gown!
If you thought, sustainable fashion looks boring, frumpy, and non-glamorous, well think again! The actor wore the dress in October 2017 to a Vogue-hosted bash in Mumbai and repeated the look again at the Emmys in 2018. She sent a strong message to the young women who think they need a closet full of expensive clothes to look glamorous and gorgeous.
Padma believes it to be such a waste not to repeat such beautiful dresses. She thinks Artisans' labor needs to be appreciated and gorgeous fabrics too. Padma Lakshmi completely endorses sustainable fashion and encourages women to sport such beautiful dresses with aplomb.
Sustainable fashion is here to stay as it is an alternative way to look at fashion. That it is also showing kindness to humans, animals, and also the environment. It is time to join your fav celebs in supporting ethical brands and move towards a zero-waste lifestyle. These glamorous outfits prove that you can look cool and be fashionably conscious yet look gorgeous at the same time!
So, why not follow the lead of your favorite celebs and update your wardrobe too? Remember, being planet conscious and embracing eco-fashion need not be an expensive affair too. There are numerous brands that offer sustainable and eco-friendly fashion at affordable costs.