There are more and more celebrities who adopt Eco-friendly lifestyles. Here we have a few of them who have done the most in that field. Let's see who they are.
Eco-Star #1 – Leonardo DiCaprio
Leonardo has recently sold his eco-friendly apartment with two bedrooms in New York City. It was sold for $8 million, but its value was $2 million higher, at least that was the amount of money ($10 million) which DiCaprio had given to buy it in the first place. This apartment has many futuristic elements: an in-house water treatment facility, rotating solar panels, low-emission paints and finishes, and fresh filtered air system. Even so, DiCaprio didn't spend much time in it, so probably that was the reason he sold it. He is also a vegetarian and drives a hybrid car.
Eco-Star #2 – Gwyneth Paltrow
Gwyneth is also a vegetarian and eats only organic products. She adores macrobiotics and whole-grain food. She has her own vegetable garden and makes her own food recipes. She even received a cooking lesson from Jamie Oliver, as a birthday present. She deals with food charities helping them raise money.
Eco-Star #3 – Paul McCartney
McCartney is a member of PETA organization (People for Ethical Treatment of Animals). He was advocating the establishment of a day called "Meatless Monday'' – the name being pretty much self-explanatory. Paul became a vegetarian to accompany his wife Linda, but he believes that ''if everyone ate only vegetables, grains, and fruits at least one day a week, an environmental impact would be huge". He is one of those people who is constantly saying that the Americans should not eat turkey on Thanksgiving Day. What do you think: Will they ever start paying attention to this matter?
Eco-Star # 4 – Natalie Portman
She's been a vegetarian since her childhood. She adores animals and once even traveled to Rwanda to help save silverback gorillas. There is even a documentary about this called Saving a Species: Gorillas on the Brink. Natalie is also known as a fighter against the usage of leather and fur garments.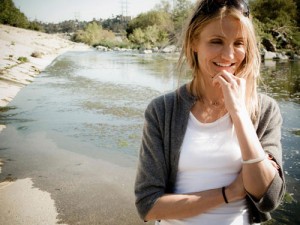 Eco-Star # 5 – Cameron Diaz
Diaz was one of the first celebrities who stood for the environmental issues. In 2005, she was part of the MTV eco-adventure series called Trippin. In the series, she traveled to Bhutan, Patagonia, and Yellowstone where she was educating people about energy consumption, endangered species, and other environmental issues. She stands for carbon neutral traveling. Diaz has made a documentary called "Cameron Diaz saves the world".
Eco-Star # 6 – Robert Redford
Robert Redford is one of the biggest fans of nature among the celebrities. He started his fight for clean air and clean water back in 1960's. In the 1980's he started organizing international conferences about global warming. He launched the Sundance Channel, which deals with the environment. Back in 1960's he bought some land in Utah which was planned to be the place for gathering and advocating the preservation of the natural resources.
Eco-Star # 7 – Orlando Bloom
Orlando Bloom is one of the celebrities who had problems with his girlfriend because of his eco-activism. He is conserving shower water and this is just one of his actions in this field. He is one of the people who launched the organization which introduces simple steps in people's everyday lives to stop global warming (Global Cool). Bloom also traveled to Antarctica with organization Global Green USA where they studied the effects of warming on the polar region.
Eco-Star # 8 – Julia Roberts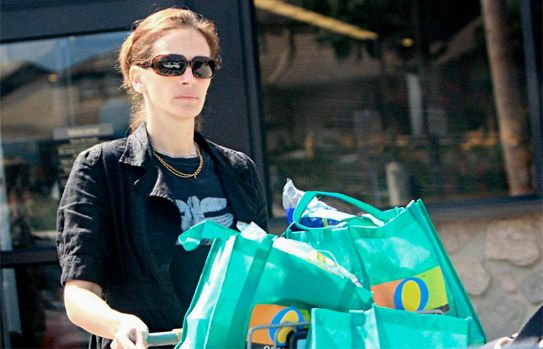 When realized how much trash she was producing daily, Julia stopped using disposable diapers and started using the flushable ones. She is raising her children in her green home with as little trash as possible.
"We make a lot of garbage," Julia said. "How can we make less garbage? This is our plight. I use Seventh Generation (chlorine-free, non-toxic) diapers for Finn and Hazel, and then I was turned on to the (plastic-free, flushable) gDiapers [for Henry]. It is flushable, but you've got to stir that thing! If you don't really break it all the way up, it doesn't go all the way down."
Eco-Star # 9 – Cindy Crawford
Cindy Crawford influenced the usage of plastic water bottles. She was teamed up with PUR Water Filtration Systems and designed the reusable water bottles. The slogan was "Thirsty for Change". She once said:
Like me, many moms today are concerned about the environment. We all want to live a little greener and do our part for the planet and for the health of our families. The good news is that even small changes can make a huge impact on the environment. And that's great news for my family because changes that fit easily into our hectic routine are the ones that are going to stick. That's why I would like to share some easy, green tips for other moms out there. They've worked in my house. I have learned that getting the whole family involved shows the kids that being eco-friendly can be fun!"
Eco-Star # 10 – Jamie Oliver
This famous British chef is one of those people who advocate the domestic food production. His television series, Jamie at Home, which can be found on DVDs, focuses on the local food production and encourages people to prepare and eat the food they've made in their own gardens.