Anyone who knows anything about Sharon Osbourne knows of her beautiful red hair. Even if you don't know anything about her, you would know about her signature red crop. Well, for eighteen years-long, Sharon has been dying her hair the plum tone she has made so famous.
But it seems that 2020 is undoubtedly a year of new beginnings, and that goes for hair trends, too! Sharon took on a new look – to the surprise of everyone! And we are loving every bit of it, in case you've missed it, here's all you need to know.
From Fiery Red to Sophisticated White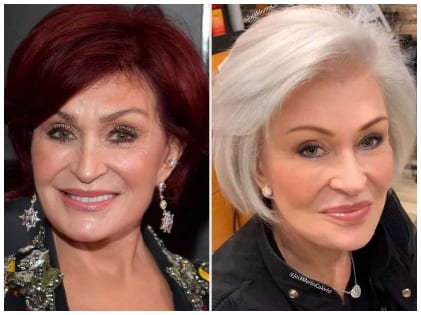 It takes a lot of courage for Sharon Osbourne to try her new hairdo. Although she has the money to afford a great professional stylist who can get the job done correctly, the change was drastic! Going from permanently dyed red hair to such a light white/grey is not easy!
The man behind her transformation is celebrity colorist Jack Martin. He put in a lot of time and effort into this epic hairdo! Jack's social media was full of the before and after shots of the hair color. You can see Sharon's new and fresh look on America's Got Talent panel. We bet everyone is going to receive it well – like a breath of fresh air!
No More Painting the Town Red for Sharon
When we see Sharon take to the red carpet now, it will be in her fresh new look. Sharon was completely white, and having 100% white hair makes this a very easy to maintain the look. This means she can go long periods between colorings without looking ratty! Sharon found it exhausting and high maintenance from dying her hair red.
Having great hair is essential to her as she isn't just the judge of America's Got Talent, but she also happens to be the host. So she spends a lot of time in front of the camera! She has to be camera-ready most of the time because she is on set almost every single day. Celebrities deserve appreciation for the effort they put into their work – it isn't all just money and roses, right!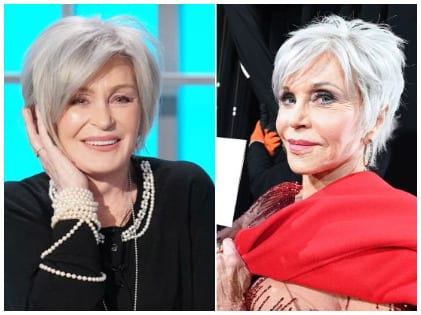 For Sharon, the entire process from start to finish took around eight hours. Sharon isn't the only celebrity who has come out to flaunt a grey hair. Jane Fonda has an elegant gray pixie hairdo too. She stole hearts when she took to the stage at the Oscar's! The red carpet will soon be seeing a lot of grey hair – in a good way!
Get the Look
To achieve this new red carpet look at home, it is best if you can grow out any previous hair color. However, we all know how long that can take, and not everyone is willing to chop off their long locks, even it means an easy-to-maintain hair. If you can't afford an expert colorist like celebrities can, just take the process in steps and allow it to happen gradually.
If you don't want to do this, you can opt for a color correction, which is a procedure that corrects your hair color to blend with the new silver-grey hair growing in. This can be a great option also to allow you to get a glimpse of what your hairstyle would look like once it eventually grows out. You will likely love the results – who doesn't want to look great and not spend too much time doing so!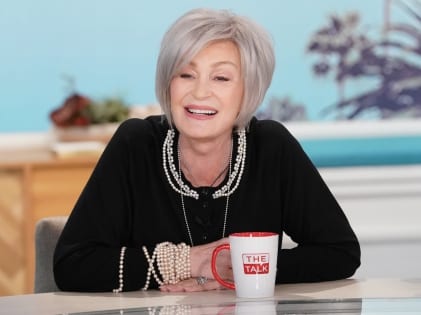 Sharon is now flaunting her grey hair proudly – though admittedly, it's more of a grey shade of white. Society lays many standards for us all, and whether we acknowledge it or not, we tend to conform to these standards.
Dying our hair and running away from greying hair is just one of those things that people are pressured into by society – particularly women. It's great to see that more females are embracing this sophisticated look, making it easier for others to break the conformity and help people feel more comfortable with what is natural! Don't hide from your grey – embrace it! We bet there will be a lot more of our favorite female celebs stepping out grey. And we are happy to see them embrace the new looks with all the confidence to look pretty for us!