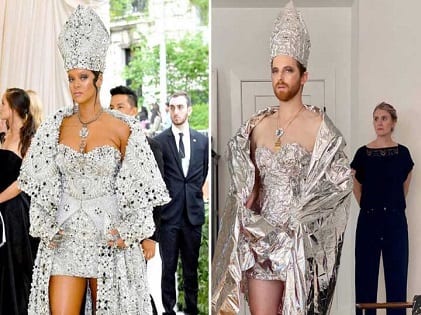 The pandemic spread has rained on the parade of every red carpet event this year. Everyone is inside their homes, and there no entertaining events happening. While the pandemic spread is spelling bad news for the whole world, a few people decided to make the best out if by recreating their favorite star's look.
Since the lockdown began, social media has been witnessing a crazy array of "challenges" and posts. And this was one challenge that caught our fancy. The Metropolitan Museum of Art started this challenge with the hashtag #MetGalaChallenge. People around the world let their creatives juice flow and went that extra mile to recreate their favorite look. Here's a glimpse of the perfect recreations from the #MetGalaChallenge, according to us.
Priyanka Chopra
Mimi Cutrell styled Indian actress Priyanka Chopra's 2019 met gala dress. The dress had criss-cross patterns and a cape in various feathers like grey, pink, yellow, and red. However, the show-stealer of her outfit was her hairdo! The other important highlight is she was decked in diamonds from head to toe.
A popular Instagram user, Stefani Chagler, with the username seasunstefunny went on to recreate the outfit. Her mother Iya Byurkland Chaglar manages her account. Stefani made a flawless recreation of the outfit using things available at home. This has got a rousing reception among the netizens. One more account which drew a fair share of attention is pawsofwinterfell. That's because it had a cat decked up in an attire resembling Priyanka Chopra's met gala outfit!
Jared Leto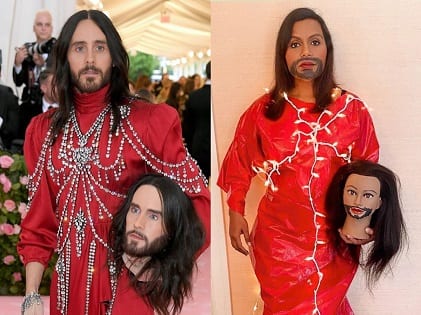 The 2019 met gala had a whole host of over-the-top costumes and ensembles. But we think nothing could beat Jared Leto's costume because of one prop that he carried and which garnered a lot of attention, a replica of his head. This is said to draw inspiration from Gucci's fall 2018 show. In this event, the guests were on the ramp with a model of their heads. He also wore a crimson-colored, jewel-encrusted gown from the same fashion house.
Mindy Kaling, a famous comedian, went on to recreate the same dress. She took the help of tarp, Christmas lights, and packing tape. Besides recreating the dress, and posting the picture, she also made a mention that Alessandro Michele would approve of the dress. Mindy's recreation was done using a red tarp as her gown.  The string lights for the jewels, and to keep all of this in place, she used packing tape. She took it one notch higher with the mannequin head and the drawn-on beard. This took the recreation to a whole new level!
Lady Gaga
Lady Gaga was one of the five hosts of the Met Gala of 2019. Nobody thought that she would be dressing up like a Russian doll. She was wearing a fuchsia dress with an enormous train and a huge entourage of men who were suited and having an umbrella. She went up the stairs and started shedding her first layer of clothing, which reveals her second layer of the dress. This was a black gown with an asymmetric neckline.
She revealed her next dress, which was a strapless column dress, which was hot pink in color. The accessory she had chosen for this dress was an odd choice. It was an old mobile phone, which was the size of a brick. When everyone thought this was the last dress. However, she took everyone by surprise by stripping down to her undergarments. And then, she went on to pull a wagonload of bottles that looked like champagne. In short, she stole the entire show!
Katy Perry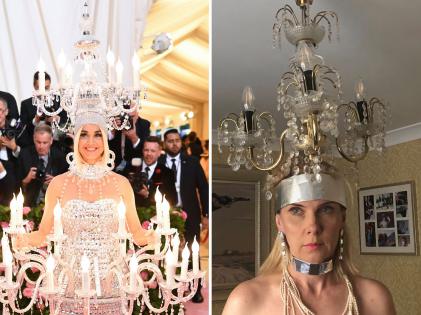 Regarded as one of the outfits that literally "lit" up the entire met gala, Katy Perry stunned everyone at the met gala by arriving as a giant crystal chandelier with glowing lights. The design was by Jeremy Scott with whom Katy Perry frequently collaborates. The designer also reveals that they had to use real Swarovski crystals and battery packs. This was to ensure that the chandeliers could light up.
This dress recreation was by a stylist called Natasha Vinnikova. She put a chandelier along with a metal colored headband to compliment the entire outfit.
One of the popular Instagram users with the handle name crescentshay has recreated the entire dress made of pink bedsheets, a laundry bin, a black photo backdrop, and all things that were available in the house. Her father acted as the umbrella assistant, and her mother worked as the camerawoman.