Many folks curl up in the comfort of their homes to ogle at the stars attending red carpet events. We sit in our pajamas as we wow at the long ball gowns and outrageous outfits that the celebrities flaunt on the red carpet. As they smile at the paparazzi, we tuck into our snack bowls. Maybe it's about time you got off the sofa and made your red carpet event!
Creating Your Red Carpet Event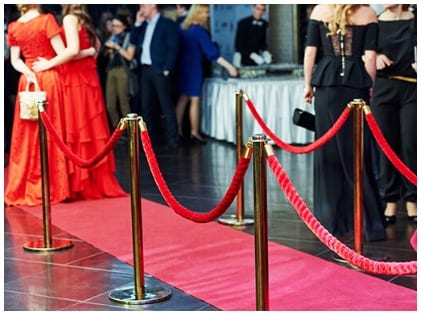 Why not create your gala so that you and your besties can dress up and be like the celebrities you have spent so much time watching. Throwing a red carpet themed party is as simple. It's the same as throwing an Oscar night viewing party, or a party in honor of your favorite movie star or movie. Who even says there has to be a reason? You could throw a red carpet event just to dress up as your favorite star! Here's how to create an unforgettable red carpet event that will make amazing memories to share with your friends and loved ones.
Setting Up The Red Carpet
A red carpet event needs an actual red carpet, doesn't it! After all, what will your guests be strutting their stuff on if you haven't got a red carpet rolled out for them? All you need is a long red carpet. Unroll it from the entrance of the room to the main event place. For example, if you're hosting it at your house, roll out the carpet from your doorway to the curb. You can buy red carpet curbs at party supply shops or even online.
The Invitations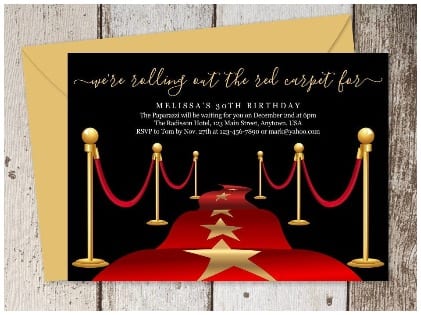 Online, you can find an assortment of pre-printed invitations for red carpet themed events and parties. There is a wide variety to choose from, including something that looks like film canisters, something with motifs, and some in an Oscar theme. Of course, you don't need to resort to pre-printed invitations if you are creatively inclined and wish to design your own! You need a computer graphics program and some sprinkling confetti in the envelope.
The Dress Code
This is the prime opportunity for every one of your guests to look their very best. Have everyone dress to the nines. And we can assure you that it will be a night to remember! You could make it a black-tie event, where guests attend in gowns and tuxedos or have everyone dress as their favorite celebrity. However, with the latter option, there's a great opportunity to make guessing come out of it as well!
The Décor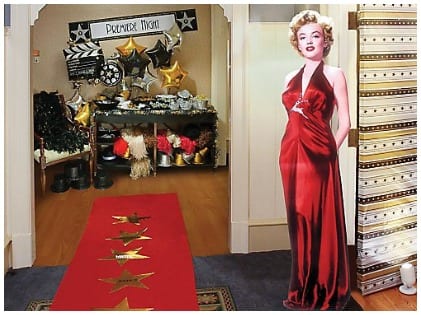 There's nothing like a party to get creative with! When it comes to big events, it's all in the details. So don't be afraid to go the extra mile and spend a bit more at the party supplies store. Besides that, you could make the entire event feel more authentic by adding in a few extras to make the event stand out. Try placing movie signs along the roadside to the party venue.
Along the red carpet leading to the venue's entrance, position some twinkling lights, which will create the illusion of paparazzi. Try also lining the walkway with star-shaped balloons, and even full length mirrors along the walkway or near the entrance if you can. The mirrors help reflect the lights and offer your guests an opportunity to see themselves at their best! Inside the actual venue, sprinkle the tables with star confetti, and hang gold streamers form the ceiling. Use metallic ribbons and film strip streamers if you can get your hands on them, too. Cardboard cutouts of your favorite celebs are a great addition, if they are within budget and available, as they make for fun photos.
 Wrap It Up
To finish off the event planning, make sure you have a good selection of music, whether it's a live band or a playlist. We advise that you save your money and have a playlist because a live broadcast isn't essential! You could even add some authentic twists like faux crashers and even a guest celebrity to liven things up! Don't forget the change and sparkling water, served in flutes, of course. Try to have food served by caterers, on shiny trays. A catered buffet makes things easy!
You can now create your red carpet event! All that's left to do is to set up your guest list and a date! Don't miss out on the opportunity to create lasting memories uniquely. Embrace your inner celebrity and throw a red carpet party!